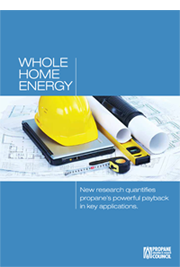 Whole-Home Analysis of Energy-Efficiency Upgrades
Decisions on where and when to invest in residential efficiency upgrades can be difficult for a homeowner, especially when it comes to paying a premium for higher efficiency equipment. This study will serve as a guide for answering questions related to prioritizing energy upgrades for existing homes.
---
About the Study
Taking a homeowner's perspective, the study evaluates dozens of energy-efficiency upgrades (referred to as "energy-efficiency measures" or EEMs). Through the application of energy simulation tools and additional analysis, a full range of EEMs are evaluated for their energy, economic, and environmental performance at 10 locations across the continental United States covering different climates. The objective of the study is to provide a credible performance analysis of competing EEMs, with added focus on the performance of propane systems.
Key Findings
When compared with other heating sources across the majority of U.S. climate zones, replacement projects involving propane-fueled solutions provide attractive returns on investment. For example, homeowners living in the Intermountain West, Great Plains, Midwest, and Northeast regions of the country who upgrade from a standard-efficiency propane furnace to a high-efficiency unit (95 AFUE or higher) can expect a one-year payback on their investment (see graph below). The switch also benefits the environment, reducing a home's annual CO2 emissions by up to 3.8 metric tons. This is equivalent to about one-third of the annual emissions that result from the energy used by a typical single-family home.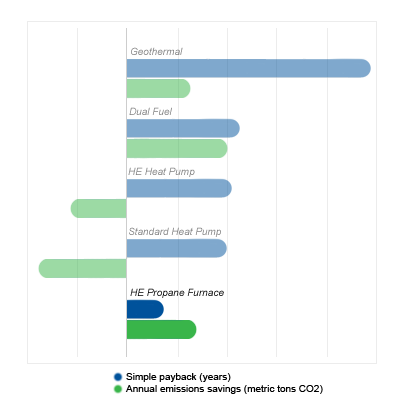 Water Heating
Propane tankless water heaters have long been a model of efficiency, with an hourly hot water delivery rate nearly triple that of tank-style electric water heaters, and an overall life expectancy that is 50 percent longer than tank-style units. Just as important, using a propane tankless water heater in place of an electric storage water heater can avert up to 3,400 pounds of carbon emissions per year—roughly the same amount of CO2 a mid-size car emits in an 11-week period. The study finds that, for a resident of the Northeast, investing in a propane tankless water heater will pay for itself in about five years.
Clothes Drying
Selecting a propane clothes dryer over an electric clothes dryer was shown to have a payback of three to six years with annual emissions savings of 0.1 to 0.3 metric tons of CO2. These emissions savings are three to four times greater than the emissions savings of an Energy Star refrigerator, another appliance upgrade that was analyzed. Propane clothes dryers also complete the drying task more quickly than electric models, all with moist heat that's gentler on clothes.
---
Related Content